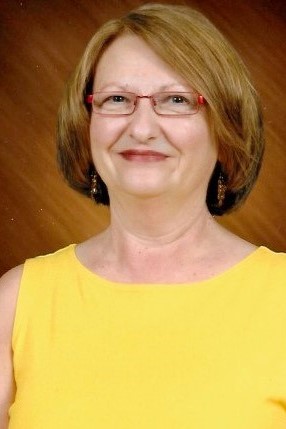 February 5, 1952 ~ June 12, 2021

Resided in: Glasgow, Kentucky
Sandra Kay Mallett Rigney, 69, of Glasgow, died on Saturday, June 12, 2021. Formerly of Alliance, Ohio, Zanesville, Ohio, and Nashville, Tennessee, she was the daughter of Floyd Maynard Mallett and Eliza Martha Hague Mallett and of her mother-in-love Marcia Bull Rigney.
During and after earning her master's degree and Rank 1, Sandi (aka Mrs. Rigney) taught for both Glasgow Independent Schools and Barren County Schools. She taught special education at Barren County High School from 1975-1985 and at Glasgow High School from 1985-2010—a total of 36+ years. She was a member of Columbia Avenue Church of Christ, the Glasgow Garden Club, and a local book club that began through her membership in Glasgow B&PW.
Sandi was a seamstress, artist, and enthusiastic event planner. She did alterations with Marcia, thrilled at the chance to help you look your best. Her crafts and cross-stitch creations are intricate and beautiful – and she liked nothing better than giving them away to those who'd enjoy them. She collected crafts and planned goodies with specific people in mind, always at work on some project or other for someone who she just knew would love what she was making. She also catered weddings in Glasgow for friends, family, and church members, treasuring every minute of enhancing a celebration for her community. She hosted an annual ladies Christmas Open House for over a decade and her enjoyment of winter holidays remains unparalleled. The consummate hostess, her greatest happiness was in the welcome and celebration of people she loved – and she loved everyone, deeply and well.
She is survived by her husband of 47 years, Dr. John Russell Rigney (Glasgow); her daughters, Dr. Stacia Lael Moroski-Rigney (Holt, Michigan) and Stacia's wife, Dr. Karen Elizabeth Moroski-Rigney (Holt); friends Eva and Ron Wagner (Glasgow); aunt Bonnie Hague (Dresden, Ohio); in-laws the Moroski family (Scranton, PA); aunt Runelle Jackson (Earl), aunt Betty Green (Mark) of Glasgow, and Bull family cousins and angels. She also leaves behind her puppy, Jazzie Lou-Who Rigney, granddog Allie Watkins, and grandcats Tag and Henry. She is preceded in death by her parents, in-laws, and beloved dog Dickens Longfellow Rigney.
If it weren't for the pesky fact that they each already had fantastic parents, she would've insisted on adopting Jennifer Stephens Block, Amy Landrum Buss, Jeff, Renee, Greg, and Bonnie Wagner, and all of their spouses, children, and pets. The family, with all of her other spirit children, would've been (is?) a large, unwieldy group.
Even if you didn't know her, you should know that she loves you. She was made of love. She wants, even now, to know about your day and your dreams and your lives – so keep sharing them with her. Her selflessness has been made manifest in the joy she felt celebrating others, with her wish for us all being: "May your days be merry and bright."
A Celebration of Life, with the theme of her personal motto "Be Kind," will be held at A.F. Crow & Son Funeral Home on Saturday, June 26 at 3:00 pm with a gathering time before from noon to 2:45 pm. Donations in lieu of flowers may be made to a GoFundMe account, "The Sandi Rigney 'Be Kind' Fund" (https://gofund.me/12c90afb). Proceeds from this fund will be divided evenly and donated to the Barren River Animal Welfare Association (BRAWA), the Community Relief Fund for Glasgow-Barren County, and the Liberty District Ralph Bunche Soup Kitchen.
A.F. Crow is honored to be entrusted with the care of Mrs. Rigney. Please share your condolence with the family at www.crowfuneralhome.com.
Memories Timeline
Guestbook
Sign the Guestbook, Light a Candle