January 15, 1925 ~ August 7, 2021
Born in: Jamestown, NY
Resided in: Deland, FL
Gordon Frederick Larson, 96, passed away on Saturday, August 7th, 2021 at the Alliance Home in Deland, Florida. Gordon is survived by children: Marlene (Larry) Anderson, Romaine (Jim) Webber, Daniel Larson and David (Shelayne) Larson; brother Duane Larson (94); nine grandchildren; and twenty-four great grandchildren. Peggy O'Neil, loving wife of Gordon for 63 years, passed away in 2010.
A gracious, humble and kind person and a friend to many, Gordon, in what he did and wherever he lived, loved the Lord and lived a life of service to Christ and his Kingdom.
Gordon was born in Jamestown, New York to John and Julia Larson on January 15, 1925. After graduating from high school in 1942, he served in WWII in the United States Army, specifically assigned as a clarinetist in the United States Army Band in Washington D.C. He met Peggy O'Neil Bowman, originally from the Glasgow, KY area while she was working as a stenographer/secretary at the Pentagon. They fell in love and soon were married. They attended Nyack College for two years, then transferred, and Gordon graduated from Houghton College in 1949. He completed his training at Asbury Theological Seminary in 1951.
Gordon and Peggy served as missionaries and linguists among the Dani People in West Papua, New Guinea from 1952 to 1990. Gordon's contributions included expeditions to unreached tribes, analyzing and writing of the Moni and Western Dani languages, helping to evangelize and establish the indigenous Dani Church and the translation of both the New Testament and the Old Testament into the Dani Language. After retiring in 1990, Gordon returned many times to see through the completion of the bible translation work.
In addition, Gordon became a renowned cultural anthropologist, contributing a detailed ethnographic study on the ritualistic cycle of primitive tribal warfare. Attending the University of Michigan during furloughs, he completed his Anthropology PhD in 1986, his dissertation being 'The Cycle of Warfare Among the Ilaga Dani of Irian Jaya''.
A graveside service will be held at 3:00 pm with military honors provided by DAV Chapter #20 at the Poplar Log Cemetery in Glasgow, Kentucky on Saturday, August 21st. A meal will be provided to attendees at Gondoliers Restaurant after the service.
Additionally, a Celebration of Gordon's Life service will be held at the Deland Alliance Home Chapel at 3:00 p.m. on Saturday, September 4th. All are welcome to attend. In honoring Gordon's life, donations can be made to fund further publications of the Western Dani Bible for the Dani People. These contributions can be made online at cmalliance.org > give > project you love > (type in) CMA Gordon Larson Dani Bible. A. F. Crow & Son Funeral Home will be assisting with local arrangements.
Memories Timeline
Photo Gallery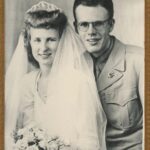 Guestbook
Sign the Guestbook, Light a Candle